New Release Blitz: Exercising Restraint by Tamir Drake (Excerpt & Giveaway)
Series: Different Dynamics, Book Two
Publisher: NineStar Press
Release Date: July 30, 2018
Heat Level: 5 - Erotica
Pairing: Male/Male
Length: 16800
Genre: Contemporary, ABO world, personal trainer, erotica, knotting, dirty talk, barebacking
Synopsis
Pierce may have a crush on Steve, his sweet, funny personal trainer, but he doesn't plan to act on it. They have a great relationship in the gym but are also friends outside of it, and Pierce has no intention of jeopardizing that. Besides, he may be an omega, but he's got a good handle on his body's biology. He's not worried he'll accidentally take things too far.
Steve may have a crush on Pierce, his smart and incredibly hot client, but he's definitely not planning to say anything anytime soon. Pierce can do way better than Steve, and anyway, Pierce is a pretty casual dater. What Steve wants is anything but casual. And that's not just the alpha in him.
When Pierce goes to Steve's gym one snowy afternoon to work out, he thinks nothing of the fact that he's in heat. He's taken his libido inhibitor and is wearing his odor blocker, so there's no chance of bothering Steve. Except, then the blocker wears off.
Steve wants nothing more than to keep himself under control, keep himself from doing something Pierce might not want. But Pierce might have something else in mind…
Excerpt
Pierce walked into Steve's studio, the bell jingling cheerily as the door swung open and closed, and hung up his coat. He pulled off his boots, switched them out for his sneakers, and then stepped out onto the empty matted area.
"Coming! Pick some music!"
Pierce shrugged and headed over to the speaker system and fiddled with the iPod Steve kept plugged in there, scrolling to one of his playlists. Steve kept music for all his clients on it, which was one of many personal touches that made him the best personal trainer ever.
By the time Pierce had settled on a playlist, Steve had come into the studio. He was barefoot today, and Pierce winced. Bare feet meant it was going to be a hard-core cardio day.
Plus side to cardio: he was often so focused on what he was doing, time passed fairly quickly.
Downside to cardio: it made him kind of want to die.
"Hey," Steve said, smiling. "How you doing today?"
"Not bad. Almost done with a couple of projects."
"Awesome. Is one of them the book covers?"
Pierce couldn't help but smile. Another reason Steve was so great was that he truly cared about his clients and remembered the details of their lives. "Yeah, the publishing company and I have pretty much settled on everything."
Pierce was a graphic designer, and he worked primarily from home, which was one of the main reasons he'd found Steve and his studio. Because he spent most days sitting, he needed the exercise, and a reason to leave his house unrelated to getting groceries.
He did have friends he socialized with of course, but working from home was a lot of time to spend by yourself. Hence seeing Steve three times a week.
"So let me guess." Pierce sighed. "We're focusing on cardio first."
Steve laughed. "What gave me away?"
Pierce stared pointedly at Steve's feet.
Steve laughed again and wiggled his toes. "All right, all right. Sounds like I don't have to introduce the program. Shall we get started?"
Pierce groaned and went to the center of the mat.
Purchase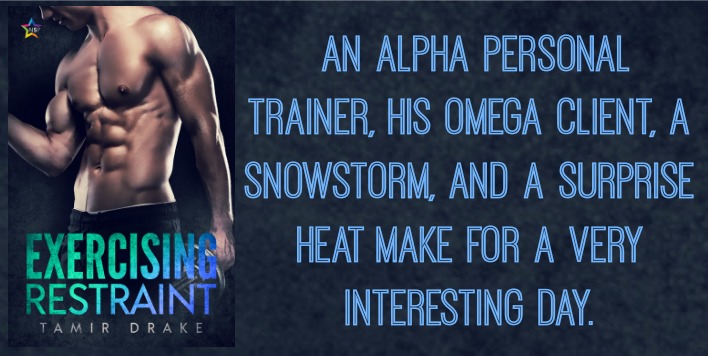 Personal Trainer Steve is an alpha and is hiding the fact that he is interested in his client Pierce, who just so happens to be an omega. After all, he is a professional and doesn't want to mess up his job. He also feels like he may be out of the other man's league. But when both men find they are an intense situation and their hormones threaten to take over, things get steamy and they realize just how great they might be together.

This was a very quick and easy read. I enjoyed it. I found the characters likable and I thought they had good chemistry. I found the ending sweet and it felt like a good beginning but the short length of the story made it feel like I wanted more. I haven't read the first book in the series but it seems like this has potential to be a good series.

***Copy provided to Bayou Book Junkie by the author/publisher for my reading pleasure in hopes of an unbiased opinion, a review was not a requirement.***








This book was short but surprisingly really hot and I enjoyed it up until the end. For being a shorter book, we got a lot of information and character dynamics packed in. I really liked Richard and that he still played hockey and pushed past his reservations and everyone's preconceived notions about Omegas not being able to do "rougher" jobs. When something happens to Richard (don't want to spoil it by saying what happens), Alpha Jason really steps up and moves their friendship into being more, but he does it the right way; making sure to communicate and verify that it's really what Richard wants and that it's not just him being in heat forcing the actions and emotions. And then when Alpha Dmitry enters the equation, too, this book goes from Steamy to Smoking Hot. I think when the three of them figure it all out together it's the best part of this book. I would have really loved to see more of the three of them together. The ending was just really too abrupt for me. It was like we got to the good parts of getting Richard, Jason and Dmitry together and it just ends. I was a little disappointed by that and really hope we get another book for them.

***Copy provided to Bayou Book Junkie by the author/publisher for my reading pleasure in hopes of an unbiased opinion, a review was not a requirement.***






* ~ * ~ *




Exercising Restraint




3.5 Stars


This is the second book in this series and the second time I really wish these books were longer. I really liked reading this one (and the previous book) because we get a hot and steamy story but they just left me wanting more. I really do think this was good though and the author made sure that for a shorter book, the flow of the story is really well written and the plot keeps you immersed in the book.

Omega Pierce has a crush on his Alpha personal trainer Steve. Steve is completely oblivious to Pierce's crush but at the same time, he feels exactly the same way for the other man, too. I think it's funny when we get a story like this, when both characters are trying to keep their feelings hidden from each other and not realizing that the other person feels the same way. So when a blizzard takes over their city they are pushed into closer contact together, giving them both the chance to come clean about how they feel and possibly, hopefully, turn it into something more. And just like the first book, this one had a somewhat abrupt HFN type ending so I really do hope we get another book to see more of how their relationship plays out in the future.

***Copy provided to Bayou Book Junkie by the author/publisher for my reading pleasure in hopes of an unbiased opinion, a review was not a requirement.***
Meet the Author
Tamir has the tendency to write feelings into everything, no matter how filthy. He's not all that sorry about it.
Giveaway
a Rafflecopter giveaway